Are you still worried about how to send a parcel to China?
Now many American enterprises choose to trade with Chinese companies. Because China's economy is second only to that of the United States, the e-commerce industry is also growing very rapidly. Maybe it's also a great opportunity for you to make a fortune! For U.S. cross-border e-commerce companies that want to grow their business in China, how to ship packages to China is a primary issue. What expresses delivery to choose, how long the transit time and the cost of shipping to China are all need to be taken into account.
This article will answer the following questions: How do I ship a package to China from USA? How much does it cost to send a parcel to China? What is the time for parcels shipped to China in the US/Singapore/Canada? What is the best way to ship express delivery to China?
However, even if you have understood the above problems, cross-border e-commerce is a very complicated matter, which also involves customs processing, government regulations, transportation costs, and so on. And now many people are saving on shipping costs and receiving good service through KeyDelivery.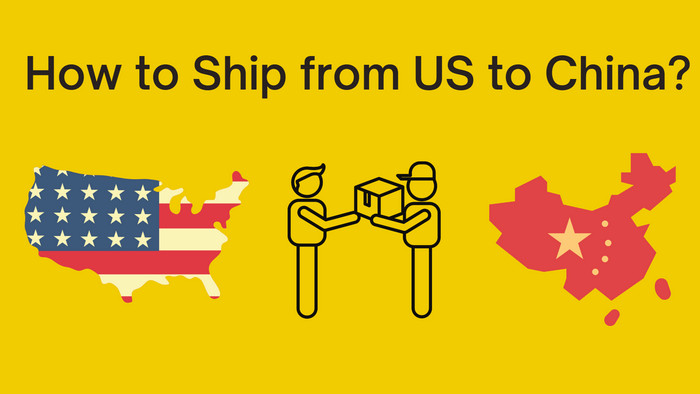 Part 1: How to Send Parcel to China?
It may be better to take a detailed example to understand the question. Take the China dish as an example. There are now four major multinational courier companies that can transport dishes from the USA to China. Each company has its own focus and differences.
USPS
Advantages: Many people are not strangers to USPS. USPS has a relatively long shipping time, so shipping costs are relatively cheap. If you have enough time and want to save on freight for cross-border e-commerce businesses, USPS definitely meets your requirements.
Disadvantages: USPS is not perfect, if you need to export dishes from Canada to China by USPS, the courier will be directly transferred to China Post, and you can not check the location status of the courier through USPS. And the longer time is also one of the disadvantages of USPS.
UPS
Advantages: the shipping time of UPS is short. Shipping from the United States to China only takes 3-5 business days. Short logistics times are its biggest advantage. And the problems that will occur with the USPS can be avoided if you choose to use UPS. When UPS ships the courier to China, it will not transfer the package to China Post and you can continue to track the courier through UPS.
Disadvantages: Similarly, ups have certain drawbacks, when the shipped package exceeds a certain limit, that is, 10 pounds, the freight will be relatively expensive.
FedEx
Advantages: FedEx's shipping speed is also very fast, but unlike ups, FedEx offers a number of other services. FedEx will provide some relevant electronic trade documents. International shipping involves more processes, and using FedEx for shipping can save energy and time spent on documents related to international transportation.
Disadvantages: FedEx's disadvantages are similar to UPS, when shipping packages weigh more than 10 pounds, shipping costs are more expensive.
DHL
Advantages: DHL's time and price are in the middle, the time is longer than UPS and FedEx, but a little shorter than USPS. Similarly, the price of DHL is also lower than that of UPS and FedEx, but it is higher than USPS.
Disadvantages: DHL is relatively average in all aspects and has no special advantage.
Part 2: How Much is Shipping to China?
The price of express delivery from the United States to China is affected by many aspects, and the most important factor of which is volume or weight. Let's take USPS and DHL as examples.
USPS does not calculate shipping costs in the same way as other international couriers, simply by giving a choice of different sizes of mail classes based on volume and weight. Different mail grades have different prices, and package delivery is much easier than other express deliveries.
USPS
| ITEMS | VOLUME | WEIGHT | PRICE |
| --- | --- | --- | --- |
| Priority Mail International Large Flat Rate Box | 23-11/16" x 11-3/4" x 3" or 12" x 12" x 5-1/2" | <=20pounds | 110.4 |
| Priority Mail International Medium Flat Rate Box | 13-5/8" x 11-7/8" x 3-3/8" or 11" x 8-1/2" x 5-1/2" | <=20pounds | 84.55 |
| Priority Mail International Small Flat Rate Box | 8-5/8" x 5-3/8" x 1-5/8" | <=4pounds | 42.15 |
| Priority Mail International DVD Flat Rate Priced Box | 7-9/16" x 5-7/16" x 5/8" | <=4pounds | 42.15 |
| Priority Mail International Large Video Flat Rate Priced Box | 9-1/4" x 6-1/4" x 2" | <=4pounds | 42.15 |
DHL
DHL uses the shipping method of ordinary international express delivery. Different prices are available through different weights and volumes.
| WEIGHT | VOLUME | PRICE | REMARK |
| --- | --- | --- | --- |
| 1 pound | 12*9*1 | 103.44 | A4 Envelope |
| 4 pounds | 9*5*1 | 147.34 | One or Two Books |
| 5 pounds | 15*11*3 | 173.34 | Board Game |
| Board game | 18*15*13 | 480.1 | Small Kitchen Appliance |
| 20pounds | 30*18*18 | 1083.5 | Moving Box |
Part 3: Time to Ship from USA/Singapore/Canada to China
Different courier companies have different shipping speeds. But in general, the delivery time of parcels from the United States, Canada, Singapore, and other places to China is generally 3-15 days. And due to the large territory of China, the delivery time in China and the customs processing time will have an impact on the delivery time. The following courier transit times are based on the official websites of the respective carriers and are for reference only. Transit times for cross-border express deliveries shipping from the U.S. to China vary over time, weight, and more.
Time to China
| | | | | |
| --- | --- | --- | --- | --- |
| | USPS | UPS | FeDex | DHL |
| USA | 6-10days | 6-10days | —— | within 13 days |
| Canada | —— | 3-8days | 5-8days | within 13 days |
| Singapore | —— | 2-5days | 5-8days | within 13 days |
Part 4: Best Way to Ship to China
For different express delivery needs, here are the recommended shipping companies:
| Requirements | Recommend Way |
| --- | --- |
| Lower cost and less important in delivery time | USPS |
| Tracking and quicker delivery time | UPS |
| Quicker delivery time and streamlining documents | FedEx |
| Daily delivery which has no special need | FedEx |
| Daily delivery which has no special need | DHL |
In addition, regarding express delivery from the United States to China, there is also a good way to save costs! Some cross-border e-commerce companies will look for some professional "third-party platforms" to seek shipping discounts or real-time order tracking. These agencies will cooperate with some multinational courier companies, such as KeyDelivery, which is a third-party agency that specializes in providing such services.
They will make an agreement with the courier company and get a certain discount. Working with software like KeyDelivery allows them to get shipping costs to save money. Moreover, KeyDelivery can also be integrated with most of the popular e-commerce platforms in the world to view logistics status and order status. The shipment tracking pages and emails of KeyDelivery can be used to raise brand awareness and promote brand stories to increase brand sales.
Final Thoughts
Shipping packages from the U.S. to China can choose from four of the more recommended international express shipping companies, namely, USPS, UPS, FedEx, and DHL. Each of these four companies has its own strengths and weaknesses. For example, USPS costs lower but longer time, UPS can track logistics and time is short but the price is high. The shipping time and transportation cost of each express are different, and you can make your choice according to your own needs. It should be noted that USPS is not priced in the same way as other courier companies.
KeyDelivery is a professional software that can help you get certain shipping discounts, track logistics information, integrate e-commerce platforms, etc. If you have these needs, just go to sign up and try KeyDelivery for free! If you have any further questions, you can also talk to KeyDeliverys' experts for help and your desired customized service.