Rock on, eCommerce Abu Dhabi! You're well on your way to becoming an eCommerce powerhouse, and we want to help you get there even faster. To do that, we've put together the best courier companies in Abu Dhabi that can help you make sure your products are delivered on time and in perfect condition.
And that's not all! We've also included some insider tips and tricks on how to get the best shipping experience and give your customers the best possible experience. So without further ado, let's get started!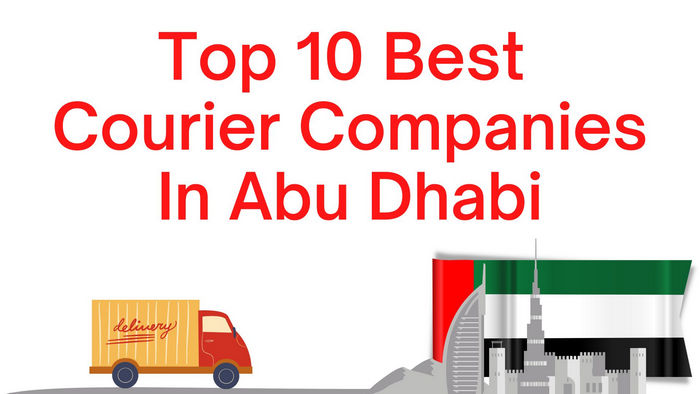 10 Best Courier Companies In Abu Dhabi
Remember, the best courier company for you is the one that best fits your needs. With that in mind, here are 11 of the best courier companies in Abu Dhabi:
1. FedEx
FedEx is a globe leader in express shipping, packing, and tracking services. With its special Abu Dhabi fleet that can handle shipments of about 65kgs with care.
They also took order management while keeping inventory always stocked—so no need ever worry about missing out again because your supplier isn't open 24/7 like some stores are.
2. Aramex Delivery Services
Aramex is a reliable and affordable local delivery company that has been in operation since 1982. With a strong focus on customer service, they offer a variety of services such as next-day and same-day delivery, as well as cash-on-delivery and express shipping.
They provide pick-up & drop-off from their warehouses located at Abu Dhabi's airport (the busiest worldwide) and other locations across UAE to help companies with short on space or manpower to manage their inventory needs while you focus on growing eCommerce deliveries!
3. Fetchr Courier Partner
Fetchr is a local delivery company that has gained immense popularity in recent years, thanks to its revolutionary use of technology. With an app-based tracking system, they offer a hassle-free delivery experience for both businesses and individuals. The FETCHR experience starts with choosing what you need, then loading it into your desired mode of transport (carrier).
4. Naqel Express Courier Firm
Naqel Express provides customized services to ship orders of about 35kgs within the UAE, as well as more than 35 kg when shipping internationally. They also offer fulfillment solutions like packaging bundling (and) kitting if you need it!
They also have an extensive network of over 200 branches across the UAE, which makes it easier for you to access their services regardless of your location.
5.DHL eCommerce
DHL has a specific section for eCommerce companies called DHL Business. They provide international logistics solutions tailored specifically toward the needs you may have as an online retailer or manufacturer!
It will come in handy when expanding into new markets, especially if they are located near warehouses where there's plenty of space available so that product shipment times won't affect production rates too much.
6. SMSA Express Parcel Delivery Service
SMSA Express offers fast, reliable shipments. The company has warehouses throughout Abu Dhabi, which makes it easy for SMSE's workers to deliver packages on time!
It also helps with returns management so your business can focus more energy on growing its sales rather than worrying about how you're going get things shipped out again when they come back home from vacation.
7. United Parcel Service Shipping Service (UPS)
UPS is a major player in the shipping industry, and it also offers eCommerce solutions for businesses of all sizes. It has a wide range of services that can be tailored to your needs, including next-day and same-day delivery.
They are the go-to option for businesses looking to deliver their products quickly and efficiently. It offers easy integration with all major marketplaces so that you can import your order information directly onto UPS' platform, simplifying the fulfillment process significantly!
8. Aymakan Courier Company
The Aymakan company is one of the major couriers in Abu Dhabi, providing shipping and fulfillment essential services to eCommerce businesses wordwide. They enable online stores with many payment options for orders as well as allowing cash on delivery (COD).
9. Emirates Post Courier Company
The UAE's post service, Emirates Post, is a government-owned enterprise that began operations in 1909. It has an offices network and many remote areas are serviced by P Boxes for customers to rent! In addition, they also offer eCommerce solutions such as warehousing and pick-up/delivery services from your store to their sorting facility.
10. Etihad Airways Delivery Services
Etihad Airways is best known for its international flights, but it also offers a comprehensive courier and delivery service for businesses in Abu Dhabi. It has a range of services that can be customized to your business needs, including next-day and same-day delivery.
The airline also offers an eCommerce solution that includes warehousing and pick-up/delivery services from your store to their sorting facility. It is a great option for businesses looking to expand their operations into new markets!
There you have it – the 11 best courier companies in Abu Dhabi that you can use for your eCommerce business in 2022! Now let's get on how these courier services are bumping eCommerce up a notch.
What Is The Main Challenge For Ecommerce Businesses In Abu Dhabi?
Handling shipping and logistics is a troublesome pebble on the growth road for eCommerce businesses globally. The process is time-consuming, costly, and complex. eCommerce businesses need to juggle different shipping rules, regulations, and restrictions while trying to optimize their shipping process.
It is where courier services come in – they can help eCommerce businesses with shipping, logistics, and even cross-border shipping. But handling all labeling, processing, and returns is time-consuming!
You May Mix Shipping Labels Leading to Wrong Deliveries
You need to make sure that you're printing the correct shipping labels for your products. Otherwise, you'll end up with the wrong product being delivered to the customer.
It can result in a lot of wasted time and money as you'll have to send out a new product to the customer, as well as process a return for the wrong product.
It Takes All Time And Energy
Think about the time spent on repetitive tasks like checking stock levels, printing labels, and packing products. This time could be spent on developing your product range, marketing your business, or even just taking a break! Outsourcing these tasks to a courier company can save you time and energy so that you can focus on other aspects of your business.
Handlings Returns For Word-Of-Mouth Marketing
Returns are a necessary evil of eCommerce, but they don't have to be a headache! A good courier company will handle returns for you, so you don't have to worry about it. It can save you a lot of time and money, as well as give you peace of mind. Remember word of mouth marketing is awesome to grow and scaling!
What's The Catch To Automate All Shipping Operations?
As you grow, your shipping needs will change, and you'll need to scale up your operations. It can be a daunting task, but it doesn't have to be! A good courier company will be able to scale with you, so you don't have to worry.
But with growth, you will be using multiple couriers, and that's where KeyDelivery comes in – it helps you manage all your couriers from one place! The catch is that you will get automated shipping operations, real-time tracking, and automatic returns processing.
And it's all while you focus on other important parts of your business! KeyDelivery is the best solution for eCommerce businesses in Abu Dhabi that are looking to automate their shipping operations. It gives you real-time tracking, automatic returns processing, and much more. With it, you can get:
International Shipping Solution for Ecommerce: You can integrate with 1200+ carriers to get the best shipping solution.
Simple Ecommerce Platform Integration for All Sellers: You can connect to any eCommerce platform with our simple APIs.
Powerful Shipping Automation for Ecommerce Businesses: You can connect to any eCommerce platform with our simple APIs.
With KeyDelivery eCommerce all-in-one tracking & shipping software, you can lower logistics costs, optimize your shipping process and scale your business with ease! Sign up for their free trial now.
How Are Courier Companies Helping ECommerce Businesses Boom?
Do you know what the best way to send a customer their purchase is? A top-quality courier service, of course! The best courier companies not only get your products delivered on time but also offer features that give you an edge over the competition. Here are some of the ways how:
1. Reduced shipping costs
Ah, the eternal battle of eCommerce – how to reduce shipping costs without eating into your profits? The best courier companies have economies of scale on their side, which they use to give businesses like yours reduced shipping costs. It can be a huge advantage, especially if you're just starting out!
2. Faster delivery times
Time is money, and the best courier companies know it. They offer a range of express shipping options that can get your products delivered in record time! It is a great way to keep your customers happy and coming back for more.
3. Better tracking and visibility
The best courier companies offer tracking and visibility features that allow you to see where your shipment is at all times. It can come in handy if there are any delays or issues with delivery.
4. Improved customer service
The best courier companies understand that the key to success is happy customers. They offer features like live chat and email support to make sure you're always kept in the loop about your shipment. They also offer a money-back guarantee if there are any problems with delivery.
5. More flexibility
The best courier companies offer a range of services that can be customized to your specific needs. It means you can choose the perfect service for your business, whether it be expedited or standard shipping.
6. A global reach
The best courier companies have a global reach, which means you can ship your products to customers all over the world. It is a great way to expand your business and reach new markets!
7. Payment Modes
Now it's the biggest pain point; the best courier companies offer multiple payment methods so that you can choose the one that best suits your needs. It includes credit cards, debit cards, bank transfers, and even cash on delivery!
8. Easy-to-use interface
The best courier companies have an easy-to-use interface that makes it simple and quick to ship your products. It means you can get back to running your business without any hassle.
9. Reputation
Reputation matters and the best courier companies have a great reputation. It means you can trust them to deliver your products on time and without any problems. A bad reputation means you're likely to experience delays and issues, so it's best to avoid them!
Does that feel a lot to dig in right now? We've got you! These factors are essential when it comes to choosing the best courier company for your eCommerce business. Keep them in mind, and you'll be sure to find the perfect fit!
Shall I Use Single Or Multiple Courier Companies For My Ecommerce Business?
The best way to figure out if you should use a single or multiple courier company for your eCommerce business is to consider your shipping needs. If you ship a lot of products, then multiple courier companies might be the best option for you.
It is because they can offer you reduced rates and faster delivery times. However, if you only ship a few products, then a single courier company might be the best option. It is because you'll have a better relationship with them and they'll be more likely to offer you discounts and promotions. Customers always come first, and you should always prioritize their needs when making shipping decisions. What do they want? How can you give it to them? These are the questions you should be asking when deciding on a courier company.
The best way to find out is to ask them! You can do this by surveying your customers or simply asking them what they prefer. Once you have this information, you can make an informed decision about which courier company is best for your eCommerce business. Have a quick look at international eCommerce and logistics warehouse guide!
Back To You
There you have it – everything you need to know about the best courier companies in Abu Dhabi! All that's left to do now is choose the perfect one for your business. Still, struggling to optimize your eCommerce shipping process? KeyDelivery offers a free trial of their all-in-one shipping software so that you can try it out for yourself! Click here to sign up now?