What factors should be taken into account while deciding on a courier service for an e-commerce company in the United Arab Emirates? Customer satisfaction and on-time delivery are two of their top priorities.
The correct logistics supply chain model is critical to the success of an e-commerce organization. From the time a shipment leaves a warehouse until it reaches its final destination, a lot of variables are at play. And it's not an easy task to keep up with all of the orders that come in.
E-commerce businesses are often reluctant to use delivery services due to concerns about increased costs. As a result, research has shown that outsourcing shipping operations to a third-party courier service can actually help firms grow more quickly and deliver better customer service.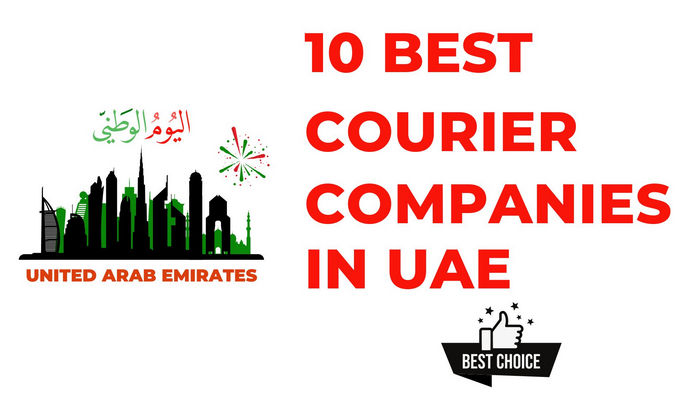 The following are the 10 best and cheapest courier service in UAE(United Arab Emirates), including Abu Dhabi to Dubai:
Top 10 Best Courier Companies in UAE Right Now
ViaMe Courier Service Provider
ViaMe is a courier delivery company established in Dubai that claims to be able to offer same-day and even same-hour deliveries.
The pursuit of luxury is a top goal in places like Dubai and Abu Dhabi. Because of this, ViaMe wants to make online shopping more luxurious than ever before by raising the bar for shipping services.
In an app-based system, it's possible to get the precise location of a consumer and have their order delivered without any fuss.
Aramex Courier Company In UAE
For more than a decade, Aramex has been among the best courier companies in Dubai. First time a Gulf Cooperation Council (GCC) firm has ever been listed on the New York Stock Exchange (NYSE).
Aramex has a well-earned reputation for dependability, given that it has been shipping globally since 1982 and is frequently cited as a top courier service for both local and international shipments. eCommerce companies in the United Arab Emirates can utilize the Aramex API since it provides a scalable model for all kinds of clients and specific express delivery features.
Dubai Courier Service
In 1994, Dubai Courier Services, formerly known as Dubai Quick Service, was established in Ras Al Khaimah with a regional office and a crew of no less than four cars and five people. The main office in Dubai - Al Qusais is currently operational with 90 employees and 70 cars. Customers in the United Arab Emirates should expect greater service from us as a result of our efforts.
When it comes to local transportation, we were the first to implement the practice of collecting money for material delivery. A better service was provided without having to deal with customers' payment delays. As a result of this offering, we're able to support businesses in the retail and wholesale sectors. It is the best courier service in Sharjah.
Fetchr Courier Partner In The United Arab Emirates
Global courier, fulfillment, and supply chain services business Fetchr is located in Dubai and utilizes a smartphone-based on-demand delivery system to deliver packages all over the world. It was founded in Dubai in December 2012.
You may transmit and receive anything from any location in the globe using the Fetchr API. Customers' shared coordinates can be used by eCommerce sites to organize delivery.
Century Express Courier Service
For more than a decade, Century Express has offered Express Courier Service to domestic and international customers.
Century Express, based in the United Arab Emirates, aims to deliver Document and Non-Document packages in record speed to all of their target locations.
Multiple network services are provided to their valued clients without congestion or contention and in accordance with established Quality and Values standards.
DTDC (Desk To Desk Courier & Cargo) Logistics Company In UAE
India-based freight service Desk to Desk Courier (DTDC) was founded in the 1990s. Logistics services are provided in over 230 countries, making it a popular service in South Asia.
After purchasing a 52% interest in Eurostar Express in the Middle East in 2012, DTDC now serves nearly every city in the United Arab Emirates and its bordering nations.
It offers eCommerce enterprises in the UAE the ability to track parcels in real-time, receive delivery confirmations, store bulk orders, and ship internationally all while providing proof of delivery and warehouse storage.
Professional Courier
Dubai is home to the headquarters of Professional express courier services LLC, the UAE's premier courier service. A team of industry professionals with more than 20 years of expertise in the transportation sector has developed and operated a professional express courier service.
As a leading cargo transportation company since 2006, they have more than 100 delivery vehicles and a team of devoted professionals, all powered by cutting-edge technology. Customers can count on them to deliver their goods and documents in a timely and cost-effective manner, allowing them to focus on their core business.
FedEx Courier Services Company In UAE
Before coming to the UAE, FedEx had already built a solid reputation in the global supply chain business as a reliable eCommerce courier partner. It is recognized as one of the best courier service in UAE for e-commerce companies since it provides shipping options that are excellent for online enterprises.
Toxic commodities like electric vehicle batteries and liquid nitrogen, as well as large, delicate, and expensive equipment, can all benefit from the service's extensive range of products. When it comes to working with eCommerce firms, FedEx has a team dedicated to this task.
Max Courier
The Middle East regional office of MAX COURIER was established in 2013 and is situated in Dubai. They've established themselves as a leading player in the United Arab Emirates market. Innovative new products and unwavering service quality have made the company a leading courier and transportation service in the United Arab Emirates (UAE) within three years and rated it in the top 10.
MAX COURIER is a courier service company run by a group of specialists who provide the most efficient express courier solution by employing their own fleet and employees. Clients from all industries and locations, including the private sector and the public sector as well as governments at all levels, engage together on a regular basis.
Cloud Express Shipping Company In UAE
With over a decade of expertise, UAE-based Cloud Express offers low-cost courier services to both online retailers and small local companies in more than one hundred different countries.
Their choices include cash on delivery, prepaid deliveries, drop-shipping, courier tracking, and more. E-commerce businesses are becoming more efficient than ever thanks to flexible, dependable, and secure delivery services provided by these companies
Why Consider KeyDelivery As Your Shipping Software Solution?
Since we reviewed the 10 best courier service providers in United Arab Emirates, it is also important to look at the **best shipping software solution **for these courier companies. This is when KeyDelivery comes in.
Businesses shipping to or from the Middle East can use KeyDelivery's shipping and tracking APl or SaaS services. Businesses can use it to compare and select the best local courier services in the Middle Eastern region.
With the unique branded tracking page provided by KeyDelivery, customers can track their parcels throughout the UAE and other Middle Eastern regions with ease.
Additionally, KeyDelivery's APl can be easily integrated into a developer's logistics management system, such as ERP, WMS, CRM, SCM, and more.
KeyDelivery provides 1200+ carriers tracking and shipping service for the integration purpose. To get tracking APIs like FedEx tracking API, Naqel tracking API or iMile tracking API, sign up on KeyDelivery, or contact their expects.