Introduction
Are you looking for a reliable logistics partner in Australia? Ecommerce is booming in Australia. And with that growth comes an increase in the demand for top logistics in Australia.
As an eCommerce business owner, you need to partner with the best logistics company. One that can provide you with the resources and support you need to grow your business.
But with a long list of logistics companies in Australia, how do you know which one is the best for your business? Each great company has its unique strengths and weaknesses.
The top supply chain companies in Australia are utilizing cutting-edge technology. Especially for supply chain management and transportation systems while increasing warehouses efficiency too!
They provide various services and opportunities for businesses to refine and perfect their post-purchase customer experience. It's all while attracting a high volume of customers who will keep coming back time after time!
To help you out, we've compiled a list of Australia's top 11 logistics companies. Read on to learn more about each company and find the one that's right for you. Happy shipping!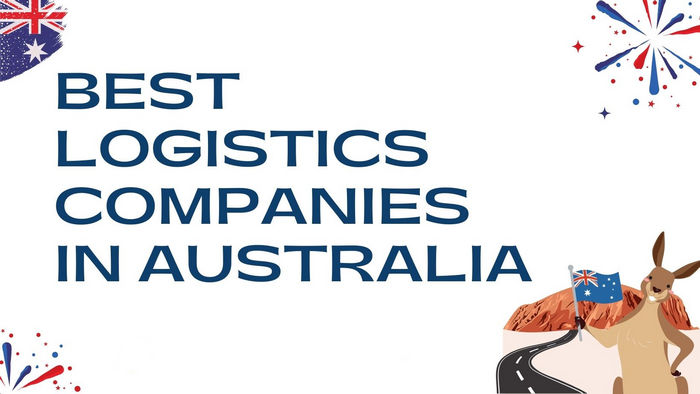 11 Best Logistics Services In Australia
1. DHL in Australia
DHL is the world's most prominent logistics company, providing various services, including express delivery and freight forwarding. They also have an online retail division that caters to eCommerce companies like Amazon!
2. Arrowfield Group in Australia
The founder of successful logistics company Arrowfield Group Logistics Company was founded in 1984 by four logistic companies to provide services that are both innovative and world-class.
They offer everything from efficient transportation solutions for your goods across Australia or even overseas, if needed -to warehousing facilities where you can store them until they're shipped off somewhere else!
The wonders of modern technology are truly manifest when one considers the size and scope of this company. With 20 warehouses across Sydney, Melbourne, Brisbane & Perth, they can store over 1 million square meters of storage space which is enough for 2000 large trucks or 14000 containers at any given time!
3. Qantas Freight Logistics in Australia
This Australian logistics firm was founded by an airline based in Sydney. It has been operating since 1982 with services including air cargo transportation, ensuring the safe delivery of any package or merchandise worth its weight.
Qantas Freight Logistics Company specializes in the logistics sector. They have established two divisions: Air Cargo and Ocean cargo, both growing markets for them to be involved with!
They can offer these services at a high level because they have access to the latest technologies and an amazing team of professionals who know what they're doing.
4. DB Schenker Logistics in Australia
DB Schenker is a company that provides end-to-end logistics solutions for any industry with specialized after-sales services. With over 50 years in Australia alone with 76000 employees on staff across 2100 locations worldwide, it's clear why they're considered an industry giant!
They customize their operations according to the needs of each client, be it temperature-controlled warehouses or an equipped fleet transporting packages across various locations throughout Europe and North America.
It's all while providing real-time tracking on your shipment's process through one portal, which allows you to stay informed about where they are at every step to ensure nothing goes wrong!
5. Aramex Logistics Service Provider in Australia
The company has 29 regional partners and 900 franchisees across Australia who offer international freight services and order tracking capability for customers' needs regarding their product or package delivery. They also provide free analysis on how best you can transport your load, so there will be no issue!
With its comprehensive domestic and international shipping services, Aramex provides a reliable way to ship your products worldwide. The app allows eCommerce businesses in Australia or anywhere else to manage all their business operations from one convenient portal--no more juggling between different websites and platforms!
6. Toll Group in Australia
Toll Group Logistics Company is a top-rated carrier in Australia. The company has 30+ years of experience and operates over 1,600 trucks to deliver logistics services throughout the country with unmatched professionalism - all while having an Aussie accent too!
The logistics industry is tough, but it's also an exciting time to be in this business. Toll Group offers a comprehensive range of transportation and customs brokerage services for online retailers that need help getting their products from point A across town or around the world!
7. UPS ECommerce Logistics in Australia
UPS is the world's largest courier delivery and logistics company, with 357 access points in Australia. They have covered solid ground by offering contract Logistics services that are secure operations and affordable express shipments!
UPS offers a range of services for the shipping industry. They take care of logistics, facilities, and challenges involving different time zones, languages, carriers, or distances - making them your one-stop shop for international shipments!
8. FedEx Logistics in Australia
With its global network, FedEx offers you the opportunity to have your shipments delivered with a premium service at an attractive price.
With FedEx, you can allow your customers to reschedule or redirect their packages without worrying about on-time deliveries. You'll never lose track of what's happening with one because they offer real-time tracking from the start until the finish!
And if something happens along the way - like an unexpected delay due in part to hazardous materials being shipped- you're always notified as soon as possible, so there are no worries when dealing directly through FedEx.
9. DTDC Australia Shipping Service Company
The global logistics company DTDC is expanding its business to Australia. They will be offering world-class services for all your needs! Whether you need international shipping or transport within our own country, this organization has covered it with quality assurance and customer satisfaction at every turn.
DTDC offers a wide range of services to meet the needs of any size company. They provide customizable solutions that are both efficient and cost-effective while also always being secure with advanced quality checks!
They manage warehouses and offer 24/7 security, including temperature-controlled centers that ensure optimally and where shipments must go through customs before reaching their destination!
10. Purolator International Logistics in Australia
Purolator is one of the leading logistics companies in Australia that has been offering a wide variety of solutions for businesses, including e-commerce, for over 25 years.
It has a well-established reputation as a **reliable and cost-effective **shipping company. You can trust that your products will be delivered on time and in perfect condition. They offer a range of services for businesses of all sizes, including:
Shipping
Logistics
Ecommerce
Fulfillment
11. Crane Worldwide Logistics in Australia
Crane Worldwide Logistics is a top provider of global logistics solutions. They **operate worldwide **in over 30 countries and have 120+ locations worldwide.
They offer various services, including airfreight, ocean freight, ground transportation, warehouse management, and supply chain solutions.
How To Select The Best Logistics Company That Suits Your Business?
Logistics companies are constantly under pressure to innovate and improve their services. They have a lot of competition in today's market.
Still, they can hold an edge over other businesses with better customer service that offer up-to-date information on delivery times for each product or package requested by consumers online before purchase.
The right logistics company can make or break your business plan. You need one that has all the services you'll ever use, from picking up packages at customers' doors to shipping their products worldwide!
Whether you need a one-time service or an ongoing commitment, plenty of features help your business reach its goals. Here is our list of what makes up the perfect logistics company:
1. Did The Company Provide International Shipping?
International shipping can become complicated, leading to delays and lost shipments. If you're shipping internationally, it's important to know that not every company handles it. Many logistics firms provide domestic services in Australia!
The customers weigh their choice based on a company's shipping experience. They like automated systems and knowledge-based solutions and for products not to get stuck at customs.
2. Capacity And Serviceability
The capacity of a logistics company is often determined by the number of warehouses they own. If you're looking for long-term storage, you'll want to consider a business with plenty of space!
Serviceability is how quickly and easily the company can get your products from Point A to Point B. This is important for businesses that need to move their inventory around often or have time-sensitive products.
The best logistics companies will have a wide network of warehouses and distribution centers that are easy to access and close to major transportation hubs. This way, your products can get where they need to go quickly and without delays.
It allocates space according to accessibility and manages inventory efficiently for smooth supply chain functioning. Moreover, they must have state-of-the-art facilities like temperature control and updated technology for inventory integrity.
3. Customer Service
Logistics can be complicated, so you'll want to ensure that the company you're working with has excellent customer service.
They should also be able to provide you with real-time updates on the status of your order, so you can always know where your products are and when they'll arrive.
4. Transport And Technology
Logistics services are the backbone of e-commerce. They help to move orders, deliver products, and provide logistics solutions for today's fast-growing market needs that can't wait any longer!
With an ever-expanding fleet, you're guaranteed efficient transportation with quality service every time - no matter how big your shipment might be or where it came from.
Outsourcing these tasks means paying someone else who knows what they're doing while saving money by cutting down expenses like fuel costs that would otherwise have been incurred if this work were done internally.
Additionally, the latest tracking technologies allow for better organization and management of resources so you can focus on your business goals rather than constantly wondering, "where is my stuff?"
5. What About Packaging And Labeling?
In an increasingly global economy, taking every step in shipping and warehousing operations is more critical than ever. Inadequate packaging can lead to damages during transport and potential legal problems when customers complain about receiving fewer products or higher prices due to errors on your end!
6. Shipping Costs Must Be Decisive
E-commerce businesses struggle with profit margins because of the high shipping costs. This is especially true for e sprawling companies that handle many different types of products and need to ship them worldwide, which increases their overhead exponentially.
Just make sure they cover their operational expenses like labor wages etc. Logistics companies offer various rates for shipping depending on the size and frequency you need your shipments.
You can also negotiate great deals with these providers before committing, giving yourself more options when it comes time to ship something! Of course, you'll want to consider pricing when choosing a logistics company. But remember that cheapest is not always the best.
You'll want to find a company that offers competitive pricing without sacrificing quality or service. The best way to do this is to get quotes from several companies and compare them side-by-side.
7.Order Tracking
The customer can view the order's progress from start to finish through real-time tracking, which provides peace of mind and visibility.
The most important aspect of an e-commerce company is its customer service. This can be seen in cases where there are returns or exchanges, as the system needs to keep track so that they know when it's time for you to receive your shipment!
Maintaining communication with customers through 24/7 support ensures everyone has what he wants without hassle--and who doesn't love great deals on quality products?
8.Reverse Logistics
The return process is essential to attracting new customers and managing existing ones. Reverse logistics deals with the storing, processing, and returning of these products. Logistics is always in need of new and creative solutions to stay competitive.
To help keep up with the ever-changing market, companies have been updating their tech capabilities. Now they can provide efficient services when it comes time to return an item through any other means than just taking off at full speed immediately after purchase!
How Can You Automate Your Shipping And Logistics Stress?
Now you know how critical shipping and logistics are for your eCommerce business. You also know there are a lot of factors to consider when it comes to choosing the right shipping solution.
The good news is that you can Try KeyDelivery Shipment Tracking And Order Shipping Software to automate your shipping process and make your life much easier.
KeyDelivery provides you with the most efficient shipping solution for your eCommerce business. It is an eCommerce Logistics software that automates and streamlines the order fulfillment process for online stores.
The software is designed for eCommerce businesses of all sizes, from small to enterprise companies. It offers several features that are beneficial for logistics companies, including:
1. Send Tracking Updates To Customers
Now you can send notifications to your customers about their orders even when they're not online! It's an excellent way for people who don't check emails or social media channels regularly and miss an incoming message from one of these platforms.
2. Generate Additional Sales From Tracking Page
With its new tracking page, you can design your own branded shipping label and direct customers to monitor their order as it moves through the supply chain. This is a great way for stores that offer multiple carriers or those with international clients!
3. Access To 1200+ Couriers
You will have access to 1200+ providers across countries, including USPS and DHL, which ensures a safe delivery no matter where it's going!
4. Blazing-Fast Integration
The software integrates quickly and easily with any eCommerce platform, including Shopify, WooCommerce, BigCommerce, Magento, and more. This means that you can get started using KeyDelivery without any hassle!
Final Conclusion
If you're looking for a way to streamline your logistics process, then KeyDelivery is the perfect solution for you. Try it today. No credit card is required! Start your free trial now!
Conclusion
There you have the best logistics in Australia and the software that is the future of logistics. What's next for your business? E-commerce shipping and logistics can be complex, but it doesn't have to be!
By automating your shipping process with KeyDelivery, you can streamline your logistics and save time and money. Are you going to stay ahead of the curve or fall behind? Start your free trial now!