Selecting a vertical market is the first step for starting your eCommerce business with less risk. Suppose you already have a store in a vertical market. Still, you might look at this article to see if you can dig out other vertical segmentations that deserve your attention.
General vs Niche Store: Difference Between General and Niche Store
Let's go through the definition of a niche and general store first. It can help you understand what business model you're practicing and what methods you can employ to increase profits.
What Is a Niche Store( What Does Vertical Market Mean)?
The idea of the niche store comes from market segmentation. You can define vertical market store in short. A niche store is a store that serves a specific small group of people with obvious differences in demand.
For instance, a store that only sells cat food and products for cats. That's a niche store for cats. If you go deeper, you can sell cat food or products for particular cats, such as cat toys for American Ringtail, cat food for American Shorthair, etc.
What Is Vertical Market Segmentation?
Vertical Market Segmentation means dividing the target customers into several customer groups based on specific factors. Each vertical group constitutes a sub-market with obvious differences in demand between them. Market segmentation is the essential work for selecting the target market.
What Is a General Store(What Does Horizontal Market Mean)?
Merchants offer goods and services for different customers in the horizontal market. It is the opposite of a niche market.
General stores are stores that sell across multiple product categories. Stores like Target, best-buy, and Costco are typical examples of the business model of a horizontal market. These brands aren't explicitly tied to any product or type of people.
For example, if you sell pet food and products, covering any type of cats to dogs, you then own a general pet store.
How to Find a Profitable Ecommerce Vertical Market Idea?
It is challenging for those new to the eCommerce world and want to start a vertical retail business. If you're not familiar with the market, there are 3 ways to find an eCommerce niche idea.
1. Product Segment
The most common method is to study the product industry. For example, clothing is a vast industry. It will not be a niche market store if you sell clothes across all uses or ages, so you need to narrow it down to a specific group of people.
You can segment the clothes into men's and women's clothing, classifying the product based on gender, uses, scenes, etc. Such as retro men's jackets, casual women's sportswear, jackets for the middle-aged, young men's sweaters, bohemian women's skirts, women's yoga clothes, etc.
It may be easier to understand the vertical market examples on Amazon. For instance, on Amazon, Sports can be regarded as an industry. Then when you click on Sports, you can see the following categories (team sports, hunting & fishing, etc., as shown below).
When you click Hunting & Fishing, you will see more niche products such as (fishing bait, fishing line, hunting knife, bow, and arrow, etc.).
It can be further divided, such as fishing bait for fishing a specific kind of fish, fishing line for fishing in the lake, fishing rod for fishing in the sea, etc.
2. Target Customer Segment
The second method is to subdivide the product based on the target customer segment. It means you need to find a group of people, focus on their needs, and sell the products that meet their needs.
For example, suppose you build an online store to serve coffee lovers. In that case, despite selling regular coffee products, you can sell coffee-related goods such as coffee cleaner, stickers, recipes, etc.
3. Target Customers' Problems
The third method is to find the segmentation based on your target audience's problems. For example, suppose you build an eCommerce website to help people solve the kitchen cleansing problem. In that case, you can put all the products related to kitchen cleaning on the website.
What Are the Pros and Cons of a Niche E-commerce Store and a General Ecommerce Store?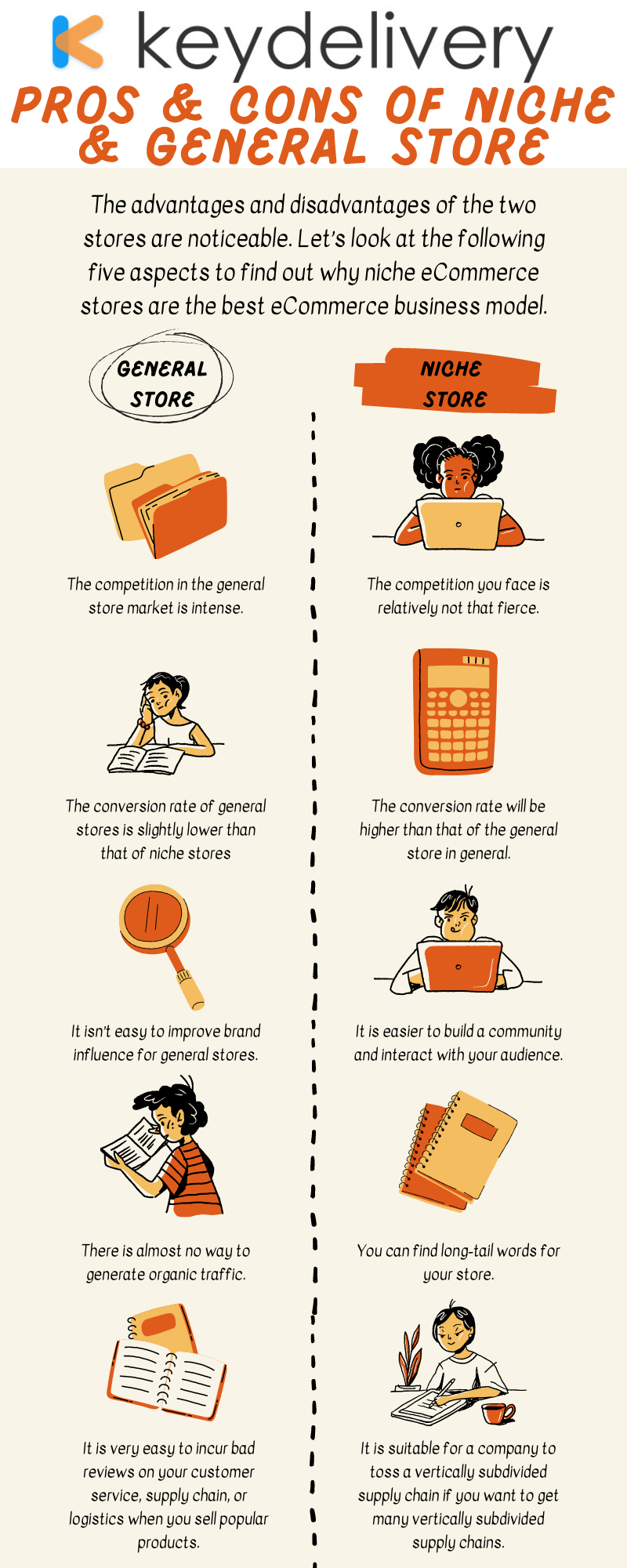 The advantages and disadvantages of the two stores are noticeable. Let's look at the following five aspects to find out why niche eCommerce stores are the best eCommerce business model in today's online selling business.
1. Market Competition

2. Conversion Rate

3. Brand Influence

4. Website Traffic

5. Store Management
General Store
1. Market Competition: The competition in the general store market is intense. Suppose you want to make a big-money with this model. In that case, the possibility is relatively slight because you will have to compete with large stores such as Walmart and Amazon, not to mention other early birds. It is not impossible to make money, but the chance is slight.
2. Conversion Rate: On average, the conversion rate of general stores is slightly lower than that of niche stores. I want to explain this in detail and give an example to make it easier to understand.
Here is an example of the cat stick product. Assuming that the cat stick is already a trending product and the conversion rate of the general store is 2.5%. The conversion rate of a niche store selling cat toys may be 3.5%-4% or higher. The conversion rate is the difference between making a profit or not.
The niche store specializing in selling cat toys is more related to the cat product. In that case, it is much easier to persuade people to buy this product.
3. Brand Influence: It isn't easy to improve brand influence for general stores. There is no room for increasing customer interaction because you sell different products and have little expertise in handling specific after-sales services. Not to mention that you can stimulate people to voluntarily promote your brand.
4. Website Traffic: There is almost no way to generate organic traffic. Suppose you choose to do SEO (search engine optimization). In that case, you have no long-term keywords to optimize, and your best-selling products may be different a few days later. Even if you optimize for some popular products, It takes too long(usually it takes 6-12 months to see the SEO result) to see the result.
It's also challenging to do social media marketing campaigns as well. You almost don't have expertise in any area. Why should everyone follow you? For email marketing, even if you can collect the emails of people who have bought things at your store, send your promotion out. The result will likely be feeble because you haven't built trust with them. As a result, the general store can almost only live on paid traffic.
5. Store Management: It is very easy to incur bad reviews on your customer service, supply chain, or logistics when you sell popular products. Bad customer reviews will increase the probability of getting your payment account, advertising account, and even the store blocked.
Niche Store
1. Market Competition: It depends on the segmentation you choose. On the whole, some scientific methods allow you to make proper choices and judgments so that the competition you face is relatively not that fierce.
2. Conversion Rate: Provided that your store design and product description page are all done well, the conversion rate will be higher than that of the general store.
3. Brand Influence: You will have a good brand image if you do an excellent job in vertical segmentation. It is easier to build a community and interact with your audience.
4. Website Traffic: The difficulty depends on the specific vertical segmentation you choose, but you can build long-term plans with SEO, social media, and email marketing. For example, although you may not compete with your competitors for some high-volume words in SEO, there is still a chance that you can find some long-tail words for your store.
5. Store Operation: If you start with dropshipping, it is hard to maintain your store stability, but you can solve the supply in the follow-up. It is not easy to optimize the popular product store because too many product categories are involved. It is suitable for a company to toss a vertically subdivided supply chain if you want to get many vertically subdivided supply chains.
Final Thought
As you can see, there are some essential distinctions between a general store and a niche store. In general, a niche store is more suitable for eCommerce newcomers. If you have 2-3 niche market ideas, you can build a site or store for each idea to test them out. If you don't have enough resources to do the testing, you can make one at a time to see how your ideas work.
More eCommerce tips for you
Top 11 Ecommerce Tracking & Shipping API in 2021
16 Indian Courier Tracking & Shipping Service Providers 2021
Top 12 Best Courier Companies for eCommerce in NA & EU
11 Tips to Reduce The Cart Abandonment Rate