The selection of Shopify Plus vs Shopify e-commerce platforms to host your online shop is not to be taken lightly. Nonetheless, it can be challenging to determine which alternative would best serve your company's needs. Both Shopify and Shopify Plus are two e-commerce platforms generating a lot of excitement in the e-commerce sector, and the proprietors of many stores are singing their praises.
The primary distinction between Shopify Plus vs Shopify is that Shopify is geared at smaller and medium-sized enterprises. At the same time, Shopify Plus is designed for bigger businesses, including enterprise-level operations. Below we will discuss the key difference between Shopify and Shopify Plus.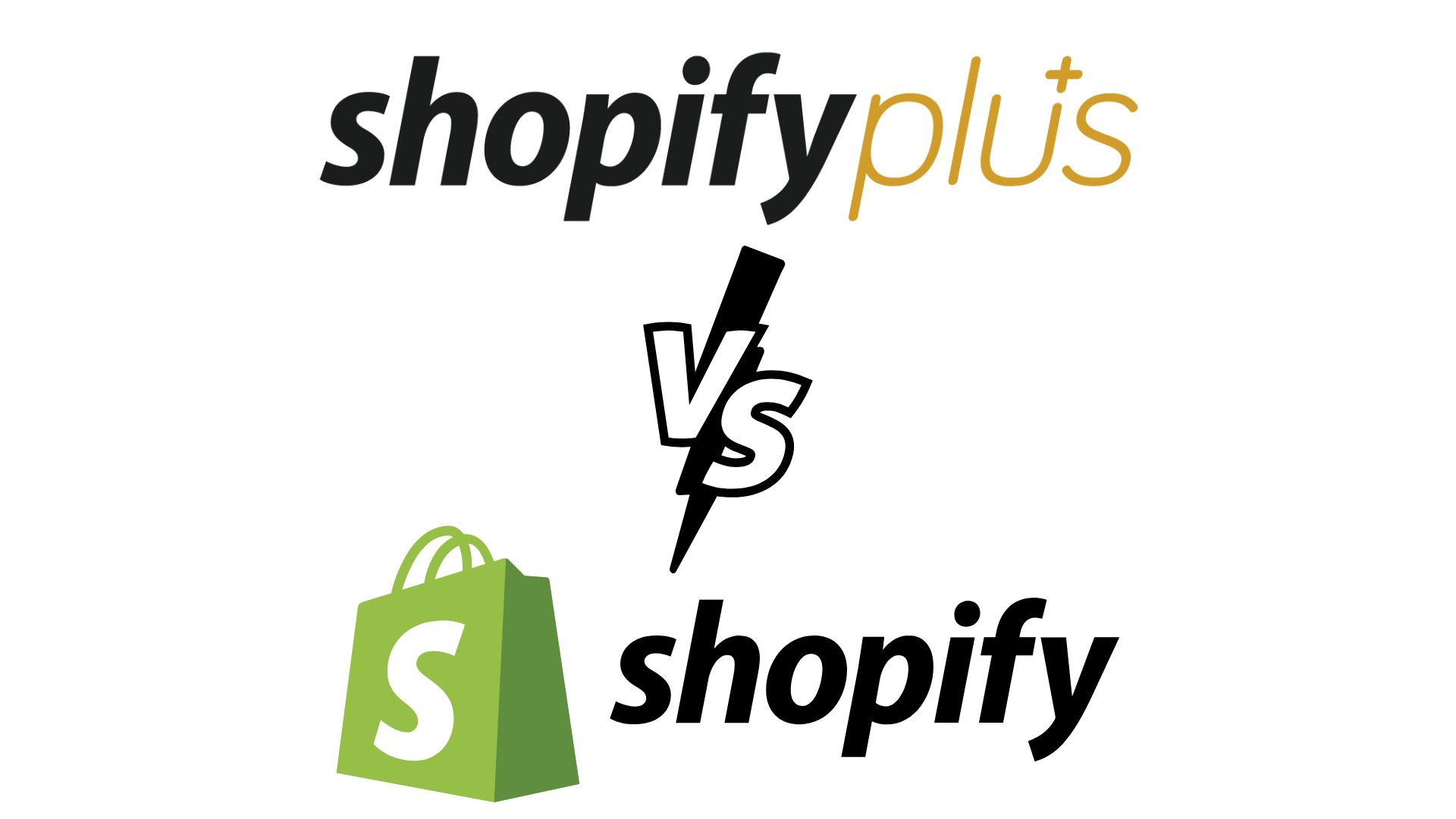 An Overview of Shopify Plus vs Shopify
Shopify is a strong platform that merchants of all sizes utilize to sell online effectively. It is now the third-largest ecommerce platform in the world and is the driving force behind more than 800,000 online businesses.
When your online shop sees rapid development that needs a more effective infrastructure to fulfill clients' expectations, you will know it is time to update your ecommerce platform since this is a sign that your ecommerce company is developing.
To put it another way, rapid expansion Merchants require a solution that can be customized, is flexible enough to adapt to changing circumstances, and manages the technical aspects of operating a large online store so that the merchants do not experience difficulties in their back-end operations, integrations, or overall business mechanisms. Then along came Shopify Plus.
Shopify Plus is a solution for merchants already servicing many customers eager to expand without major investments in time, energy, or resources.
What Are the Differences between Shopify Plus and Shopify?
Individuals and local companies interested in selling products or services online have a fantastic alternative to Shopify's main service. But if you're an organization making millions in sales, you may want a more personalized experience-Shopify Plus.
In essence, Shopify Plus includes everything the original Shopify subscription does, along with additional features. Therefore, rather than concentrating on what is identical, we are looking to assist you in making the difference between Shopify and Shopify Plus by concentrating on the innovative key features and benefits that you would get with Shopify Plus, and we are planning to present you the key difference between Shopify and Shopify Plus.
Design flexibility
Regarding the ability to customize the design, both are quite comparable. When you build an eCommerce site with Shopify or Shopify Plus, you have access to 73 different themes to choose from. Shopify's editor makes it simple for users to apply their unique styling to the platform's themes. For a more in-depth degree of customization, you need a fundamental comprehension of Liquid, Shopify's theme scripting language, to perform the necessary custom adjustments. Themes for Shopify are offered in several different languages. Therefore, if you want to construct an internet shop with customers in a certain nation, you may construct it in the language spoken in that nation, such as Spanish, French, German, and so on.
Although it may seem like a lot, it won't help your Shopify business differentiate itself from the hundreds already out there.
On the other side, if you have Shopify Plus, your Launch Manager will be able to assist you in creating a unique theme that is solely applicable to your shop. They will assist you in writing code lines and getting a Shopify custom theme up and operating on your website. In this scenario, the dedicated Launch Manager will save firms operating at the corporate level a significant amount of time and hundreds of dollars. If you have Shopify Plus, you will have access to Script Editor, which is not accessible on any other Shopify subscriptions. This will enable you to personalize your checkout page.
Staff accounts
There is a limit on the number of user accounts created on Shopify. Depending on your chosen plan tier, the maximum number of staff accounts associated with a single Shopify account is 1, 2, 5, or 15. Because of this, companies are restricted in their ability to delegate administrative tasks to whatever workers and team members they want. The benefit of using Shopify as opposed to Shopify Plus is that you do not have to worry about being picky with your personnel since you can establish an infinite number of accounts. To put it another way, if you anticipate that both your team and your company endeavors will expand in size, your account may more readily grow with you to accommodate the increased demand.
Multi-currency
You might be thinking about whether you should allow a multi-currency choice via one shop or set up multiple stores for each area when you decide to sell worldwide from your Shopify store. If you decide to sell globally from your Shopify store, you may ask yourself this question. You can develop a multi-country experience that is entirely tailored in content, goods, languages, and pricing to the local market.
API integrations
The online retailers may choose from a comprehensive menu of API integration options provided by Shopify. Utilizing these application programming interfaces (APIs) has enabled online retailers to introduce a plethora of cutting-edge services over several years. On the other hand, Shopify API has specific restrictions on the number of API calls you may make. Because of this, if you're planning on expanding the size of your business, you can run into some difficulties due to the call restrictions.
At a later point, sophisticated eCommerce companies search for infinite API connectivity, which is precisely why Shopify Plus API is the superior choice in this situation. When comparing Shopify vs Shopify Plus, it is essential to consider the many integration options available on each platform.
Take the example of the Storefront API, for instance. This application programming interface (API) is very important to the process of adding creative flourishes to your eCommerce business. It enables you to enhance the shopping experiences of the people who shop in your Shopify store. When it comes to the rate-limit method, this API adheres to a limit that is dependent on the passage of time. If you utilize Shopify, you won't have to worry about exceeding the typical call restriction of 60 seconds per user IP. However, if you upgrade to Shopify Plus, you will have a 120s per user IP restriction rather than the current 60s.
Analytics Dashboard
Shopify has its specialized analytics dashboard by default. You'll be able to get a bird's-eye view of the sales and custom reports for your online business from this section. In addition, a live view provides you with updated data minute-by-minute. This analytics dashboard allows almost any eCommerce organization to get all the information and understanding they seek.
In addition to this, Shopify Plus takes things an additional step further. While the analytics dashboard offered by Shopify covers all the data insights available, Shopify Plus collaborates with market-leading analytics businesses like Glew and Looker to give you data and insight that is both up to date and expertly gathered. Because they can get the essential specific information, eCommerce businesses may make significant advancements thanks to this function.
Shopify Plus has once again shown to be superior to Shopify. Shopify gives you access to an analytics tool that is already integrated into the platform, allowing you to monitor the data associated with your business routinely. Shopify Plus takes this functionality to a higher level by including more complex integrations. Shopify provides you with incredible insight, but Shopify Plus provides you with specific expert data and information. For checking more differences. For checking more differences you can click here.
Shopify vs Shopify Plus pricing
Prices tend to reflect the level of features offered. The pricing of Shopify Plus ranges from $2,000 to $4,000 a month, depending on your company's requirements. In exchange, merchants have access to extra features and a reduction in the transaction costs charged by Shopify (0.15 percent ). In contrast, the basic Shopify plan costs $29 per month, the standard plan costs $79 per month, and the advanced plan costs £299 per month. These prices do not include Shopify's merchant fees. For more information about Shopify Plus you can click here.
| Name | Shopify | Shopify Plus |
| --- | --- | --- |
| Plan Pricing style | 29$-$299 per Month | 2000$-4000$ |
| Support | 24/7 Live support | - 24/7 Live support - Expert consultant |
| Themes and design | Self-customized with liquid | - Customized by launch Manager - Script editor for checkout page |
| Multi-currency | Yes | Yes |
| Languages | 5 languages | 20 languages |
| Tax | Build-in Tax engine without remit sale tax | Avalara Avatax |
| Wholesales Channels | Yes | Yes |
Exclusive features of Shopify Plus
Enterprises who want more from their e-commerce platform can take their shop to the next level by upgrading to Shopify Plus, which was developed specifically for these businesses. It is adaptable while retaining its user-friendliness, offers a fantastic speed to market for new projects, has specialized applications, adaptable API calls, and a great deal more.
A specialized account manager for each business
Customers that subscribe to Shopify Plus get individualized and devoted assistance for their online stores. Shopify will assign a Launch Engineer to your site to help you throughout the process of setting up your business and migrating your inventory.
Automated Campaigns and Workflows
By automating the fundamental operations that would otherwise need to be performed by hand, you can save significant time with Shopify Plus. This enables the merchant to design entirely customized back-end procedures, improving the firm's effectiveness and level of organization. Triggers, actions, and conditions are the three components necessary to automate a process.
Increased Traffic Capacity
Thanks to the launchpad tool with Shopify Plus, you won't have to stress about the next flash sale. The launchpad allows businesses to schedule and fully automate all tasks necessary to conduct a flash sale or special event successfully. The retailer can construct complicated scripts, such as those that provide gifts with any purchase and automate previously manual operations, such as adjusting the product price during promotional periods. The event dashboard allows the merchant to monitor the campaign's progress while running.
Wholesale Management
The Shopify Plus wholesale channel has everything covered if the retailer or merchant is also willing to sell wholesale products. As a natural progression of the online shop, it allows the retailer to expand their business into the wholesale market using a distinct storefront. Because of this channel, the merchant can simplify their operations and billing their consumers while providing the ability to deal with clients of varying sizes.
The Level of Integration
Shopify Plus enables you to combine your Shopify shop with a wide variety of third-party applications, improving compatibility and usefulness. You may also expand the compatibility of Shopify Plus by integrating the system with other third-party systems like PIM, ERP, 3PL, WMS, and so forth. In a nutshell, it enables business owners to link their website with a wide variety of apps provided by third parties, which simplifies the purchasing process for customers. Accounting, customer relationship management, and multichannel software can be easily incorporated into a business with Shopify Plus's expanded API limit without the store owner having to worry about surpassing the API limit.
Fulfill Your Shopify Orders Easily to Bring Customers the Best Experience
KeyDelivery gives you the most value for your money by making the shipment and tracking of your packages easier and more cost-effective. You can monitor your shipments and receive alerts of any updates through your webhook or enterprise resource planning system. Offer your clients a wonderful shipping experience while relieving yourself of the burden of managing the many carriers, which may be difficult and time-consuming.
Your clients may check the status of their orders from any location at any time. Your business can communicate with its consumers in a more meaningful way thanks to the individualized mobile response all-in-one monitoring page. Its branded global tracking pages allow more space to promote your product or tell your brand's story.
When customers check their order status in Shopify, make additional product suggestions to them. Analyzing previous shipping data helps improve the shipping experience and reduce associated costs. Through careful examination of events from the past, it is possible to identify the factors that contribute to the recurrence of problems and devise effective solutions. Order tracking is supported for more than 1200 carriers around the world by KeyDelivery. Your customer can always receive the correct updates promptly regardless of which carriers you choose to use. Below are some basic and enterprise plans for Keydelivery.
Conclusion
In conclusion, we can state that both the Shopify Plus vs Shopify advanced e-commerce platforms are strong options. Which of the platforms you choose should be determined by the nature of your company. Shopify Advanced is the most suitable alternative to consider if you own or operate a small company. There are a lot of different kinds of companies out there, and Shopify Plus may not be the best option for all of them. However, the Shopify Plus plan is the one you should go with for big businesses. It is not because of the "larger and better things" available with Shopify Plus that we recommend that company owners upgrade to it. The efficiency of the pricing plan is determined by a greater degree of capacity as well as high-quality work carried out with a significant quantity of information. Because of this, you should go with the Shopify Plus price plan if your daily sales total more than one hundred dollars. It works out well for your company.
You need to sign up with KeyDelivery so that you may set everything up only once and connect with more than 1200 carriers throughout the globe. Convert the expense of shipping into a source of revenue; make shipment monitoring and delivery more reasonable; provide the greatest possible value for your money. The universal multicarrier shipping API that KeyDelivery provides enables you to plan the pick-up of your shipments. It gives you access to a multitude of carriers throughout the globe via e-commerce sites.
You can always find the most appropriate carrier for you, whether you use Shopify or any other available options. When you connect the API to your e-commerce shop, you can evaluate the shipping charges for your shipping channel provided by both domestic and foreign shipping companies. This allows you to choose the quality choice that is the least expensive one. Because this program is integrated into your system, you will also have access to shipping rate reductions.