10 Best Multi Carrier Shipping Software
As the world responds to COVID-19 by developing eCommerce sites, direct-to-consumer companies will have more options than before.
It's no secret that shipping has gotten more complicated and expensive for online merchants, whether they're launching a new brand or expanding an established one.
The shipping software helps those new or existing eCommerce businesses to manage their shipments effectively. Moreover, these multi-carrier shipping software solutions also allow your customer to track their shipments using APIs.
Since multi-carrier shipping software solutions will allow the eCommerce business and other brands to reduce their costs and provide tracking benefits to their customers. Let's take a look at the 10 best multi-carrier shipping software in 2022.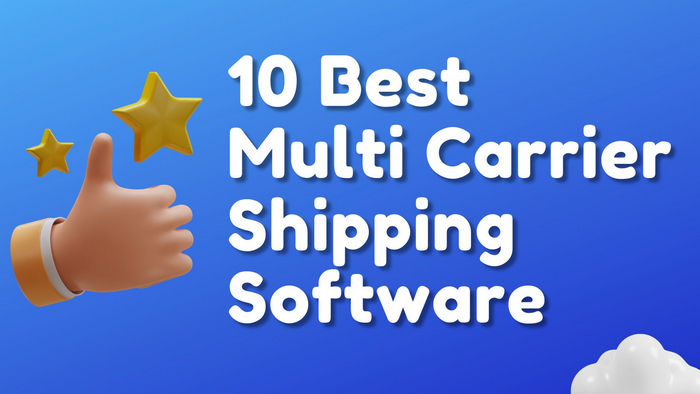 10 Best Multi Carrier Shipping Software
KeyDelivery
Since 2010, KeyDelivery has been an active participant in the world of logistics. The company has assisted more than 150 million individual users and companies in the process of sending items and tracking shipments across more than 200 countries and regions.
The best thing about KeyDelivery is its cost-effectiveness and affordability. It is not overly priced like other shipping software solutions out there. Moreover, the developers can easily integrate the KeyDelivery APIs into their system.
As for your customers or operating staff, they will find it easy to use for tracking and other purposes. KeyDelivery has integration with 1200+ carriers making it the best mulit-carrier shipping software. Moreover, it also offers the brand a professional service of shipping label creation and printing.
Shippo
2nd in our list is the Shippo multi-carrier software solution. Using the software, you may ship more efficiently and save money on services like USPS, UPS, and DHL Express. Shippo will automatically sync order information, make shipping labels, and print any papers required for your orders once it is connected to your eCommerce platform.
Customer service may be further improved by sending personalized emails and tracking pages, printing custom return labels in bulk, and more.
ClickPost
As a leading SaaS platform, ClickPost manages multi-carrier shipping operations for local and international shipments. A wide range of e-commerce systems, such as Shopify, Magento, WooCommerce, and others—as well as 150+ shipping partners—can be easily integrated.
XPS
eCommerce shops may use XPS Shipping Software for free. In order to extract orders, examine shipping prices, and reduce fulfillment mistakes, web-based multi-carrier alternatives may be included in your eCommerce site.
Amazon, Etsy, eBay, and Walmart are just a few of the online retailers that XPS Ship can connect with. Shopify, WooCommerce, BigCommerce, and Squarespace are just a few of the e-commerce platforms you may integrate into your own website.
Aftership
Its package shipping and transportation management system software is provided on a worldwide scale by Aftership, a Hong Kong-based logistics business. Over 600 global carriers and several e-commerce platforms, such as Magento and Shopify, may be integrated.
It is most well-known for its ability to integrate a package tracking API to provide automated tracking services. Shipments may be tracked, consumers notified by phone and email, and the shipping process simplified with total control using Aftership.
ProShip
Using ProShip, your shipping and supply chain operations will benefit from increased speed, compliance, dependability, and experience. Large merchants, warehouses dealing with high-volume package shipments, and healthcare organizations dealing with HIPAA or hazardous compliance can all benefit from the automated program.
With ProShip, you'll be able to handle even the most complicated parcel shipping difficulties quickly and affordably. It is the best woocommerce multi carrier shipping software.
FreightPop
ClickPost and FreightPop both got their start in 2015, as did FreightPop. However, this company was founded in California and has since expanded its operations across the world. If you are looking for transportation and supply chain management software, this is one of the best options out there.
In conjunction with an ERP or WMS, FreightPop offers a variety of integrated shipping services. Similarly, it leverages technology to enhance the auditing capabilities of eCommerce enterprises by tracking orders and invoices to discover freight irregularities. With Freight Pop, customers may save money and time on shipping.
StarShip
Over 5,000 firms have placed their faith in StarShip to ensure that their shipments are delivered on time and with little effort.
To improve the efficiency of shipping, accounts receivable, and customer service by integrating ERP and Amazon In the warehouse, plug-and-play interfaces provide quick and easy access to all orders and bills. To automatically populate the shipping screen, simply scan the document number on your select sheet.
Small package and LTL shipping from one application with multi-carrier support; one-click rate shopping for both modes or StarShip auto-selecting the carrier/service based on configurable parameters. It is one of the best multi carrier shipping solutions.
MetaPack
With its headquarters in London, MetaPack is a package delivery and supply chain management software company that does business across the United Kingdom and beyond. Shipping products with 400+ carriers is now possible for eCommerce companies in the UK and other countries.
Additional services include pick-up and drop-off at over 350000+ locations throughout the world, as well as expedited delivery, overseas delivery, and shipping labels.
Shippo
One more California-based parcel shipping and supply chain software startup that predominantly works in the United States, Shippo also handles international shipments and deliveries.
It is a global service provider, thus it can help with documents for import and export. Automated shipping labels and packing slips are created using Shippo software, making it easier to manage shipments.
A single-view tracking page, as well as automatic messages telling consumers when their orders have been picked up or are ready for delivery, are just some of the additional benefits that online businesses can now provide their clients.
Conclusion
Following our review of the best multi-carrier shipping software, each eCommerce shop must still choose its preferred courier service provider. Multi-carrier shipping systems, each of which has its own specialties and offers different services in various locations, make this a challenging task.
If we compare the features of all these 10 shipping software solutions, then KeyDelivery is second to none. It stays on top because it is like a whole package. You will get 1200+ carrier interactions, easy-to-use APIs, shipping label design and print, cost-effectiveness, and benefits for both operators and customers.
There must be a way for a shipping program to gather and deliver pertinent information to the user in a succinct manner, making the process much more efficient. We recommend you to use KeyDelivery services for multi carrier API solutions. You can sign up or call their sales to get the most out of it.