The United Arab Emirates is experiencing an inflating growth in multiple industries. Due to the incorporation of technology, high-quality resources, and labor influx, the government aims to diversify its economic growth.
Therefore, it promotes free-trade zones, tax reliefs, and other variables to benefit from comprehensive growth strategies. Trade between and among countries is a significant factor in the growth of an economy. The logistics industry in the United Arab Emirates has influenced the population's preference for online shopping due to its ease.
According to a forecast by Dubai Customs, the UAE's expanding e-commerce economy will grow by 23 percent by 2022, with a market value of $27 billion. The logistics companies in UAE mentioned below are pioneers in their field of work. They facilitate growth in transport and e-commerce significantly. Moreover, these companies do not intend to slow down even in a post-pandemic world. Continue reading to learn about them and their core values: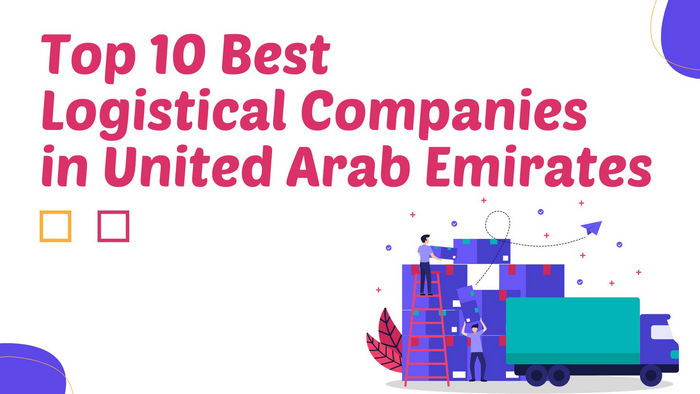 10 Best Logistical Companies in the UAE
1. Al-Futtaim Logistics:
Al-Futtaim Logistics was created in the 1980s. You will find the name on the list of the most transformative transport companies in the UAE. The logistic company's network is successfully operating in more than 150 countries. Its competitive advantage is building a close relationship with local industries to promote its services globally. Al-Futtaim Logisticsoperates sub-offices throughout the Gulf Strip, further establishing its territory in the market.
Key Point Of Al-Futtaim Logistics:
Al-Futtaim Logistics provides optimum convenience; the organization offers prepaid and COD delivery alternatives and card-on-delivery.
To help eCommerce businesses maintain track of their current, arriving, and exiting goods, the company offers inventory control services.
Al-Futtaim Logistics verifies the authenticity of delivery, and the company offers digital delivery confirmation.
Using AFL's online order monitoring service, customers may keep tabs on the status of their orders.
To guarantee maximum efficiency, the organization employs route optimization tools.
The organization provides services such as shipment pickup, packing, and labels to help online sellers manage their delivery operations.
The 'trial and purchase' function offered by Al-Futtaim helps eCommerce enterprises increase their exposure and sales.
An eCommerce customer's individual packaging needs are considered while developing the company's customized packaging solutions.
2. Global Shipping and Logistics:
Global Shipping and Logistics started operating in the UAE in 1975. It withstood earlier intense competition in logistics companies in UAEto surface as a leader. However, it rebranded in 2005 with a revised aim to accommodate modern logistic parameters in the UAE. Presently, it employs a workforce of more prominent than 500 people with optimum motivational and job satisfaction levels.
Key Point Of Global Shipping and Logistics:
Inside the United Arab Emirates, the company delivers same-day delivery.
The organization maintains storage facilities that are up to date and have a total storage capacity of about 3 million square feet.
The organization offers specialized storage options for many types of customer electronics.
GSL Group allows customers to track their orders to ensure they arrive on time.
Customers of the company can get help with their inventory management.
3. Services Provided By Careem Logistics In The UAE:
The Dubai-based travel and delivery business Careem is a subsidiary of the world's largest ride-hailing company, Uber. Careem also offers delivery services. Over 15 countries spanning Africa, South Asia, and the Middle East are represented in the company's operational footprint.
There are various transport companies in UAE, but this approach is perfect for smaller companies that want access to clients through a delivery service that is both efficient and manageable.
Key Point Of Careem Logistics:
Corporations may take advantage of the economies of scale by receiving discounts depending on their volume of purchases from the platform.
Delivery may be optimized based on the various round-the-clock parameters to offer this platform's fastest and most cheap delivery experience possible.
Using the platform for shipping partners, customers can keep track of their deliveries in real-time.
You may expect a Careem ride to arrive between 45 and 60 minutes after you place your ride.
One of the best transport companies in UAE with a successful track record.
Its customer support and services are fantastic and available 24x7 with online support.
4. ECommerce Logistics Service United Parcel Service (UPS) In UAE:
There are 220 countries in which United Parcel Service, also known as UPS, has business. Road, train, airplane, and container ships are all standard modes of transportation for the company's goods throughout the region's borders. Deliveries may be made more quickly and easily thanks to UPS's many capabilities specifically developed for eCommerce companies.
Key Point Of United Parcel Service (UPS) In UAE:
To make shipping feasible and dependable, customers in the United Arab Emirates can benefit from UPS's tailored parcel delivery for small businesses and female entrepreneurs.
This logistics company in UAE provides online retailers services like e-fulfillment, order tracking, delivery history, and automation.
Integrations with major online stores and marketplaces are made available by the delivery service, which can assist retailers in expanding their customer base.
UPS provides a range of shipping choices adaptable to the number of orders placed.
5. RAK Logistics:
RAK Logistics is next on the list of credible transport companies in UAE. Even though the company started operating in Singapore, it decided to merge with Samena Capital. Resultantly, it broadened its operations in Dubai. The company successfully operates in more than 45 countries and continues to lead the UAE logistics sector.
Key Point Of RAK Logistics In UAE:
AK Logistics expertly manages your inventory and products. Item usage is their top priority.
The service intends to relax the clients by eliminating stress. RAK intends for a long-time commitment.
RAK Logistics offers value-added services to manage and complete projects on time.
6. UAE-based Ceva E-Commerce-Logistics Company:
An international logistics organization headquartered in Switzerland, Ceva has significant activities in the United Arab Emirates. Since the firm was founded, it has created more than 1000 locations in over 160 countries. The company is a full-service logistics provider that specializes in eCommerce solutions.
Key Point Of UAE-based Ceva E-Commerce-Logistics Company:
The firm provides solutions for stockbroker and eCommerce transactions traversing international borders.
Ceva provides various services, including same-day delivery, pickup places, repackaging, and re-labeling products.
The supplier of the courier company provides return options to eCommerce firms.
The logistics firm provides solutions for deliveries made in the final mile.
The organization provides solutions for both electronic commerce and multichannel fulfillment warehouses.
Ceva provides logistics solutions to businesses that sell directly to consumers and other companies.
7. Mac World Logistics LLC:
Another strong competitor in the UAE logistics sector is Mac World Logistics LLC. The company is well known for its detailed approach to helping local and international companies cater to different types of customers. Mac world Logistics LLC's clients include small-scale companies, large organizations, and non-commercial businesses. It is considered one of the largest growing freight-forward companies in Dubai.
Mac World LLC practices one of the lowest incident ratios in the industry.
The clients experience a vast network based on specialized professionals and networking for a customized solution.
The service promises to meet client requirements while adapting to the dynamically changing trends in the logistics sector.
8. Consolidating Shipping Services:
Consolidating Shipping Services or CSS Group has been primarily operating in Dubai since 1995. The chairman of the CSS group is a highly motivated individual who strives to gain a competitive advantage in the industry. The logistic organization presently hires more than 750 individuals dedicated to their field of work.
Consolidated Shipping Services will eliminate inefficiencies such as delayed delivery and inventory loss.
The entity has established a reputed name, attracting clients because of their trustworthy and credible operations.
The CSS Group stands out with excellent customer service and superior value-added management services.
9. Emirates Logistics LLC:
Emirates Logistics LLCrecentlyopened its doors in the UAE. Its headquarter is in Dubai. Furthermore, the company owns five branches strategically spread throughout the UAE. It focuses on technology-based operations and an innovative approach to one-up its competitors. Emirates Logistics LLC values its operating core with a two-way policy regarding business communication.
Emirates Logistics LLC works closely with its clients to amplify their supply chain management.
The service accommodates global clients and develops innovative makes to streamline supply chain management.
The entity partners with different countries to achieve unheard-of benchmarks in the logistics sector.
10. National Association of Freight and Logistics (NAFL):
The Gulf Cooperation Council's first freight forwarding association is NAFL. In 1992, this outstanding logistics company was founded in Dubai. Every major shipping and transportation company in Dubai is represented here. It is one of the top 10 logistics businesses in Dubai, according to a recent survey. NAFL is a reputable Middle Eastern logistics organization that meets the needs of nearly all of Dubai's logistics firms.
Factors for selection of a logistics company in UAE (United Arab Emirates) :
Shipping corporations have a variety of alternatives on the market. To choose a courier company, you must know your company's requirements and those of your clients. It might not be easy to find a company that is a suitable match for your company. As a result, consider the following considerations when selecting a shipping partner for your organization.
Factors for Selection of a Logistics Company in UAE (United Arab Emirates):
Shipping corporations have a variety of alternatives on the market. To choose a courier company, you must know your company's requirements and those of your clients. It might not be easy to find a company that is a suitable match for your company. As a result, consider the following considerations when selecting a shipping partner for your organization.
1. Access and approach:
Your chosen delivery partner must be capable of reaching your intended audience. Before deciding on a shipping business to work with, you need to know your target audience and their location. Your business's existence depends on your shipping partner's ability to reach your target audience in the region where they live. To ensure client happiness, it must be able to service your target market.
2. Effective Performance:
The speed of delivery is closely affected by the performance of a carrier. Modern-day clients have a far shorter attention span than they had in the past. Delivery delays might harm your sales in today's world of immediate satisfaction. Minor blunders might spell the end of an online selling platform in today's cutthroat industry. Every online retailer must have a quick and dependable delivery process. Before settling on a shipping partner, you must know the shipping company's efficiency.
3. Cost of delivery:
A shipping business in the United Arab Emirates should be chosen based on the delivery cost. Factors such as the nature and quantity of your item and additional services like insurance and tracking are considered to determine shipping costs. Because shipping costs fluctuate so much, a shipping partner must offer a range of cost-effective options.
4. Rates of RTO:
Failure to deliver a package results in the shipment being returned to its point of origin. You want to avoid this if you have a high RTO percentage: a firm that cannot deliver all of its orders. RTO rates are an excellent way to gauge a shipping company's efficiency.
5. Product technology:
In the age of technology, internet shopping platforms have become a reality. Businesses built on the foundation of technology are well-suited for collaboration with other tech-friendly firms from various fields. Companies that ship products online profit substantially from shipping partners who use technology to enhance their capabilities, such as tracking orders or managing customer information. Your shipping operations will be more efficient and enjoyable if you choose a shipping partner who incorporates cutting-edge technology into their engagement with you. The key is to work with a company that utilizes advanced technology and offers integrations with your system.
6. Services of value-add:
Combining a competing product with exceptional service is necessary to achieve customer happiness. Value-added services can be endless but look at some of the most crucial ones like cash (or card) -on-delivery to make your consumers' online purchasing experience even more convenient. Shipment services that offer additional services relevant to your business and target market should be considered.
7. Product Return Management:
When it comes to internet buying, it's different from shopping in person. Only after the goods have been paid for can the customer acquire a real sense of it. Sometimes, a client may opt to cancel an already shipped order. As a result, the customer will return certain goods in such instances. A customer may be displeased with a product that has already been delivered to them or may have received the wrong item. In these circumstances, the customer might seek a refund or replacement.
8. History:
In addition to looking at the company's forecasts, it's crucial to look into its prior performance before becoming engaged. If you're looking for a shipping partner for your online company, look for companies with a proven track record of success. To minimize problems, company owners should avoid working with companies that have shown lousy performance in the past. A less expensive option could be found while searching for a partner, but you must receive an evaluation of the organization first. Due to poor performance, cancellations, and other issues, bad performers tend to provide lower-priced services that wind up costing more in the end. Even when the historical performance isn't stellar, it's still a good time. A well-reviewed shipping service helps you raise the bar for your shipping operations, resulting in more productivity and happier customers.
Final Thoughts
The above-mentioned top logistics companies in UAE are integral to the consumer and product pipeline. Small and medium-scale businesses hire these organizations to deliver their product safely to the user. As a result, the process establishes brand loyalty and economic growth.
What is KeyDelivery Logistical API?
After we reviewed the Top 10 Best Logistical Companies in the UAE Right Now, it is also important to look at the best logistical solution to increase your shipment and tracking efficiency.
KeyDelivery is a logistics integration of 1200 couriers. With it, you can track and ship your order of any carrier easily. KeyDelivery multi-carrier tracking API will auto-track your shipments and automatically send your customers the shipment status via email or SMS, thus there will be fewer where-is-my-order calls and you will have more time and efforts to grow your business. Meanwhile, KeyDelivery can help you generate additional sales from the tracking page. To enjoy its services, just don't hesitate to free try KeyDelivery, or contact their expects.
FAQs:
Which company is best for logistics?
These are the top Logistics companies in Dubai.
Al-Futtaim Logistic
Mac World Logistics LLC
Verks Global Logistics LLC
Global Shipping & Logistic
Consolidated Shipping Services
Emirates Logistics LLC
RAK Logistics
Jenae Logistics LLC
Is the logistics business profitable in Dubai?
Yes. The logistics industry is one of the most prosperous in Dubai. The areas of Ras Al Khaimah and the Special economic zone are home to several logistics companies.
What are the four types of logistics?
Supply, distribution, manufacturing, and reverse logistics are the four primary forms of logistics activities. Supply chain management may be broken down into four distinct categories.
What is a logistic company?
Regarding supply chain management, a logistics business acts as an intermediary between the buyer and seller. Based on the contract between the two represented, the logistics business can function in supplier procurement, warehousing, delivery, order fulfillment, and distribution.
What degree is best for logistics?
A bachelor's degree in logistics prepares students for most entry-level roles in the field. Supply-chain courses in bachelor's degree programs may involve logistics, distribution, negotiating skills, and sourcing and purchasing.
Is logistics a good career?
Logistics is a huge industry, so it shouldn't make a difference that there's a constant need for qualified workers. Logisticians' job is expected to expand by 4% between 2019 and 2029, which aligns with the national average.