Solid shipping service is one of the best selling points of a business. After all, no customer will receive their package 4 days after it is due. Whether it is a pair of leggings or an expensive electronics item, customers expect to receive their items safely and securely well within the scheduled time. Accordingly, if a business wants to build a reputable image in the market and create a recurring customer base, optimizing the shipping process should be its number one priority. Wondering how this can be done? The following blog discusses different ways by which companies can improve their shipping processes. Read on.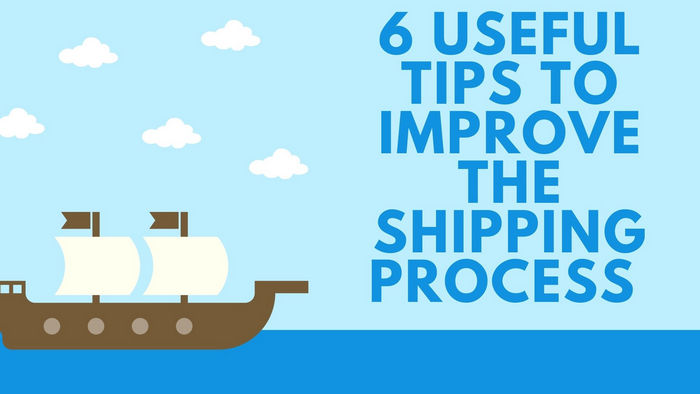 Why Should a Business Improve its Shipping Process?
If you have ever purchased something online, you already must have an idea of how important timely and secure delivery is for a good shopping experience. Customers are likely to move to a different brand if the delivery options of your company don't meet their needs.
After all, with the increasing number of eCommerce retailers in the market, customers have a lot of options when it comes to buying products. If your company does not meet the needs of the customers, someone else will. Accordingly, your brand can stand out in the market if it has a quick and efficient shipping process, as compared to other competitors in the market.
Investing in shipping management also helps in improving business efficiency. Therefore, it is super important for businesses to optimize shipping process workflow to fulfil customers' expectations and stand out in the market.
Tips to Improve the Shipping Process
Now let's come to the main question asked by companies - how to improve the shipping process and make it more efficient? Below, we have highlighted some imperative tips that can help companies to optimize shipping processes and meet the needs of their customers:
1. Streamline your Operations with Powerful Shipping Software
Gone are the days when businesses had to record everything on paper. Today, you can find a multitude of technologies to support your business operations, such as shipping management software.
Using shipping management software, you can track your shipments, manage logistics, and keep your customers informed about their packages. For instance, KeyDelivery is a popular shipping management software that makes it super easy for customers to track their orders across the world.
It supports integration with more than 1200 carriers globally, including China Post, DHL, and FedEx. You can also connect the software with eCommerce platforms like Magento, Bigcommerce, Shopify, eBay, and Woocommerce. Plus, you don't need a lot of technical information to use the easy-to-use software.
Accordingly, shipping management with the help of software can help small businesses, in particular, to fulfil all the orders conveniently. Customers can be offered a more personalized experience, allowing businesses to build a recurring customer base and a good image in the market.
2. Select the Right Packaging
Packaging is one of the most costly elements of a shipping process. Shipping can only be effective if the packaging is done right. Plus, different products require different types of packaging. For instance, if you are shipping pharmaceutical products, you will require cold chain packaging. Plus, the packaging allows businesses to market themselves in front of customers. Accordingly, make sure to choose a packaging that keeps the product protected while branding the business.
3. Improve Communication with your Warehouse
Wondering how to improve the warehouse shipping process? The answer is simple, your brand needs to improve its communication with the warehouse. Proper communication with the supplier can help in managing the stock, handling precious items carefully, and resolving customers' problems.
Instead of emailing and waiting for a reply, it is better for companies to speak with the warehouse manager over the phone or meet them physically. This helps build rapport with the warehouse manager and ensures there is no miscommunication.
4. Always Prepare for Customs Clearance
Preparing for customers in advance is another way to improve your shipping process. Customs clearance is a very tiring part of the delivery process, which can take a huge chunk of time. Parcels across the world undergo strict custom checks to ensure the product meets the local regulations. The customs authority can take a lot of time for no reason, and there's no way for businesses to negotiate with the authorities to allow the delivery.
Accordingly, the best way for brands to avoid delays in their shipping process due to customers is to declare their goods online. This will ensure the products will make through customs without any problem.
5. Keep Your Customers Informed
When a customer places an order, they start counting the days until they receive their order. You can expect customers to check the shipping tracker every now and then to ensure they will receive their order on time. Accordingly, keeping your customers informed about their delivery can help in assuring them that they are working with a trustworthy brand.
Businesses should incorporate the right technology into their business to allow customers to track their parcels directly. Tracking reference codes or delivery status updates via tracking page, email and SMS can help customers to see how far their parcels have travelled. At the same time, your company's customer service should be proactive in answering your customer's queries regarding the shipping process. In case of an expected delay, it is always a good practice to inform the customer about it beforehand. On this point, KeyDelivery also allows you to send the branded tracking page to keep your customers informed with package updates, product recommendations, or anything helpful for improving your brand influence.
6. Pick the Correct Courier Service
Another way to improve shipping proficiency is to work with the right courier service, and businesses can do this by determining what they want. For instance, if a business promises fast delivery, then it will have to look for a courier service that can guarantee quick delivery. On the other hand, if the business deals with precious items like electronics, then the company will have to find a courier service that has the capacity to make safe deliveries.
Google is the best shot when it comes to searching for courier services. Think about the deliverables you want and the budget you can afford to send a parcel, depending upon the customer's location and the product's weight. Here are some questions you need to consider when selecting a courier service:
How far do you have to send the parcel? Will the courier service be able to make the delivery?
How safe and secure is the chosen courier service? What happens if the parcel is misplaced or left unattended?
How fast is the delivery service?
Is the courier service reliable and trustworthy? How is customer service?
Are there any negative reviews about the service online? How easy is it to work with the service?
Can the company handle oversized packages?
How much will it cost to work with the service?
Final Thoughts
An effective shipping process can make a business stand out in the market. By incorporating good shipping management software, clearing the customs beforehand, picking the right courier service, and keeping the communication clear with all the involved stakeholders, businesses can optimize their shipping processes and compete in the industry. After all, if a customer is not receiving their product on time, they will move to a different brand for the same product.
KeyDelivery is an all-in-one eCommerce shipping, as well as tracking software, that can businesses improve their shipping processes, lower logistics costs, and ensure the product reaches their customers safely. You can also get a free trial of the product!